Home
>
News & Events
>
Spotlight Saturday at Laurel Brook Features: Peggy Sailer!
Spotlight Saturday at Laurel Brook Features: Peggy Sailer!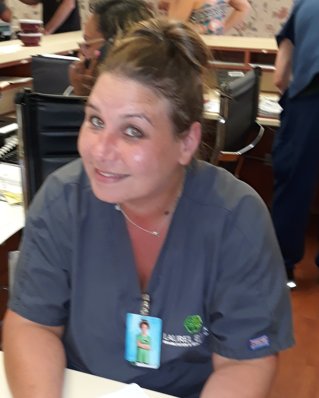 It's time for Spotlight Saturday and we recently had the opportunity to sit with our very own Peggy Sailer, LPN. We invite you to get to know Peggy more by reading her interview below:
1. Before working at Laurel Brook, what was the most unusual or interesting job you've ever had?

A. The most interesting/unusual job I had was delivering Pizza.
2. How did you first learn about Laurel Brook?

A. I simply walked-in.
3. How do you balance your career at Laurel Brook and family?
A. My ability to balance comes with the solid support from my family.
4. How has Laurel Brook helped you in your career development?
A. It has greatly improved my experience in the nursing world.
5. If you could pick one theme for Laurel Brook to turn into a book about the company, what would it be?

A. Join the Fun
6. What advice do you have for prospective Laurel Brook candidates?

A. Lead with your best foot forward!
7. What are 3 words to describe Laurel Brook?

A. Intriguing, advance and caring
8. What do you like most about Laurel Brook?

A. I really love my team of nurses.
9. What drew you to Laurel Brook originally?

A. I needed a change and saw this as an opportunity to help others.
10. What has been your favorite memory at Laurel Brook?

A. BBQ, and parties for the residents.
11. What is your favorite part about working for Laurel Brook?
A. Learning stories of the residents and who they were before they became part of the family here at the center.
12. What is your proudest moment at Laurel Brook?

A. Realizing that I'm a nurse and have a direct opportunity to make a difference in people's lives.
13. What is your role at Laurel Brook?

A. LPN
14. How long have you been an LPN?
A. 17 months
15. What is one thing you co-workers don't know about you?
A. I love to cook
16. What do you like to do for fun outside of work?

A. Float in the pool in the summer and go sledding in the winter.
17. Favorite Movie?

A. Cinderella